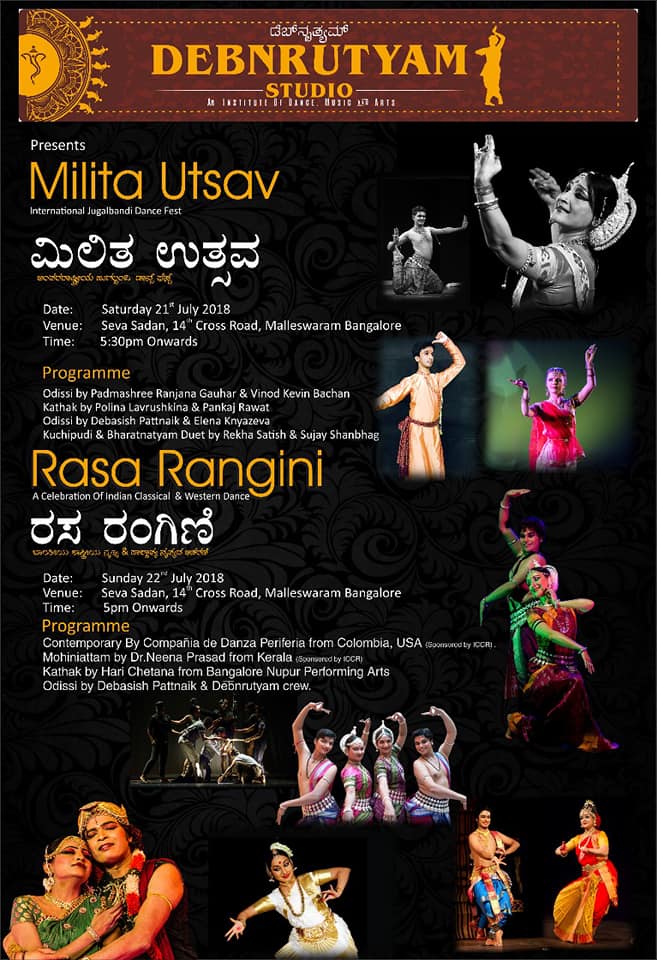 Debnrutyam studio
organizing a 3days international dance festival from 20th to 22nd July 2018,
20th July Friday 6.pm at Seva Sadan.
Malleswaram Bangalore.
It is Mancha Pravesha one of our Debnrutyam Student Ms. Meghna Mishra debut her Odissi dance .
21st July Saturday 5.30pm at Seva Sadan .
Milita Utsava (An International Jugalbandi Dance fest) renowned artist across globe are performing like Padmashree Ranjan Gauhar performing Odissi with Vinod Kevin Bachan an Odissi dancer from West indies, Polina Lavrushkina a Russian Kathak dancer will be performing with her dance partner Mr. Pankaj Rawat from Delhi. Then Elena Knyazeva odissi dancer from Russia performing odissi with Sri Shingar Mani Debasish Pattnaik and closing performance by Rekah Satish,kuchipudi dancer from Bangalore and Sujay Shanbhag, Bharatnatyam dancer from Bangalore performing duet on that day.
22nd,July Sunday 5.pm at seva Sadan.
Rasa Rangini ( A Celebration of Indian Classical Dance) we start the event by Periferia group performing contemporary from Colombia USA. Then Dr. Neena Prasad from Kerala will be performing Mohiniattam solo with live musician. Then Kathak by Hari Chetana & group from Bangalore. And finally closing performance, Odissi by Guru Sri Shingar Mani Debasish Pattnaik & his Debnrutyam students.
Would like to invite each and everyone to join us and bless us for the best.
Studio